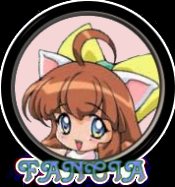 "Sayonara Song"
This story appears in the graphic novel,
"kone kone Fancia"
as "part 18".

NOTE: this is the very last story in "kone kone Fancia". (T.T)

if you dig back to part 1, you might remember that "katsuo-bushi" is "shaved tuna"
that can be sprinkled on rice or salads or darn-near anything
(though i advise against sprinkling it on ice cream!).
and, as you might well guess, it's also a tasty treat for kitties!