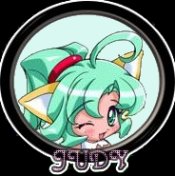 "Let's Go For A Walk!"


This story appears in the
graphic novel, "cone cone Fancia" published by Monthly Magazine Z"
(suggested background music whilst reading this: George Gershwin's "Summertime"!)

NOTE! the end of this story has a mature theme, so be forwarned!

Note on story: on page 5 of the story, Fancia really says that Judy looks like a princess...
since Judy comes from "the west", i decided to change the line to fit with my
southern belle interpretation of the story...
i mean, look at the piccy...she even *looks* like a southern belle!