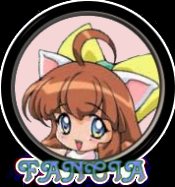 "Watchin' Th' Odango"
This story appears in the graphic novel,
"kone kone Fancia"
as "part 3".
i originally scanned and retouched the art from
the Monthly Magazine Z" version...

Story Note: in this story, Fancia's Master makes a reference to "the rabbit on the moon"...
In Japan, they don't have a "Man In The Moon", they have a rabbit...
in fact, *many* cultures around the world define the shadows on the moon as a "rabbit"...
the next time the moon is full in your area, take a look at it,
and i'm sure you'll see the rabbit, too!